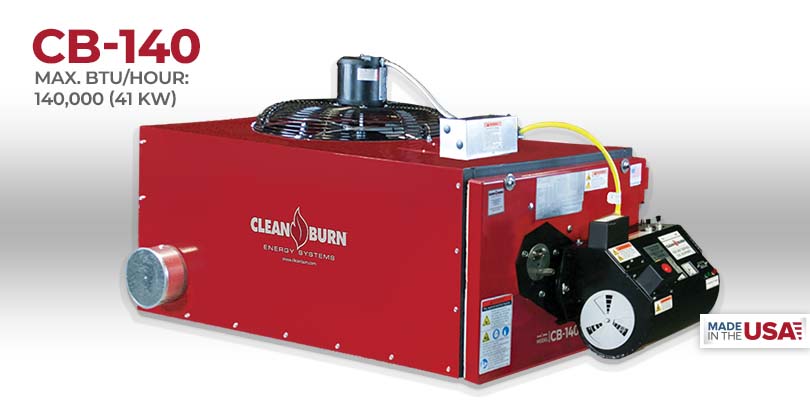 CB-140
The Clean Burn Model CB-140 is the smallest and most economical Clean Burn used-oil furnace in terms of initial cost. It produces approximately 140,000 BTU/hr. and is ideal for small garages, shops, and workspaces.
MODEL INFORMATION
FEATURES
 Engineered from the ground up to burn waste oils
Patented heat exchanger generates more heat
Unique non-welded flue tubes for longer service life
Advanced burner preheats oil to optimize combustion
Swing-away burner and door make service easy
Longest cleaning interval of all units in its class
Lower stack temperatures, higher heat output
Automatic flow control means no fuel adjustment required
Ideal for unit heating or with a Clean Burn Recycling Center
Unequaled service and support from Clean Burn Distributors
SPECS
Model CB-140
Specs.
*Maximum BTU/hour
140,000 (41 kW)
*Maximum oil consumption
1.0 GPH (3.8 L/h)
Fuels
Used oils: Crankcase,ATF, hydraulic
Fuel oils: #2, #4, and #5 fuel oil
Air flow output (CFM)
Unit heater 2000
Axial fan
Furnace cannot be ducted
*Air compressor required
2.5 CFM @ 25 PSI
(4.25 m3/h @ 2 bar)
Stack Size
6 inch dia.(15cm dia.)
Furnace Dimensions, Assembled
61" L x 32 W x 32 H
(155cm x 81cm x 81cm)
Approx. Weight (uncrated)
220 pounds (99.8 kg)
Electrical Requirements
115 VAC 60 Hz, single phase
30 A circuit breaker
*Values indicated above are nominal. Actual values will vary depending on fuel and installation.