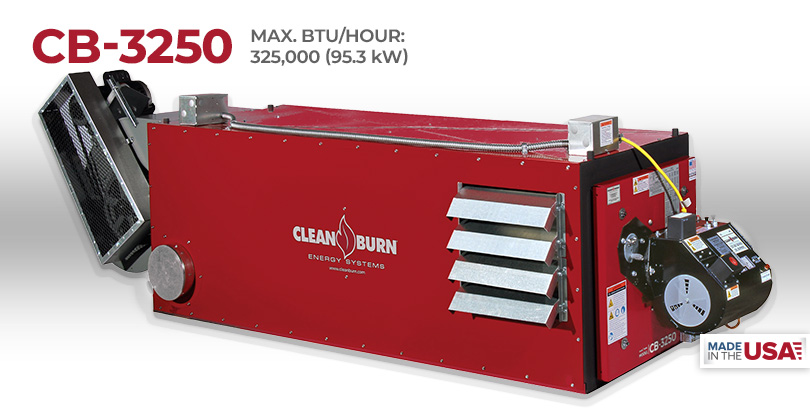 CB-3250
The largest of our four Clean Burn low profile models, the Model CB-3250 waste oil furnace is rated at approximately 325,000 BTU/hr. and is UL listed for use as a unit heater or central (ducted) furnace.
This unique low-profile unit provides more installation and functional options than any other waste oil furnace. The low profile is ideal for limited ceiling heights, and the range of installation options is unsurpassed.
Clean Burn waste oil furnaces are engineered from the ground up to burn a wide range of waste oils for free heat, and comply with all EPA regulations. Your Clean Burn distributor is a fully trained and highly experienced expert in waste oil combustion technology. With Clean Burn you get a superior product, unrivaled support and the greatest return on your investment for years to come.
MODEL INFORMATION
FEATURES
 Engineered from the ground up to burn waste oils
Patented heat exchanger generates more heat
Unique non-welded flue tubes for longer service life
Advanced burner preheats oil to optimize combustion
Swing-away burner and door make service easy
Longest cleaning interval of all units in its class
Lower stack temperatures, higher heat output
Automatic flow control means no fuel adjustment required
Ideal for unit heating or with a Clean Burn Recycling Center
Unequaled service and support from Clean Burn Distributors
SPECS
Model CB-3250
Specs.
*Maximum BTU/hour
325,000 (95.3 kW)
*Maximum oil consumption
2.1 GPH (7.91 L/h)
Fuels
Used oils: Crankcase,ATF, hydraulic
Fuel oils: #2, #4, and #5 fuel oil
Air flow output (CFM)
Unit heater 3300
Central furnace (ducted)
0.25 SPWC (in.) 3150
0.30 SPWC (in.) 2900
*Air compressor required
2.5 CFM @ 25 PSI
(4.25 m3/h @ 1.7 bar)
Stack Size
8 inch dia.(20cm dia.)
Furnace Dimensions, Assembled
121" L x 31.25 W x 35 H
(307cm x 80cm x 89cm)
Approx. Weight (uncrated)
641 pounds (288.7 kg)
Electrical Requirements
230 VAC 60 Hz, single phase
30 A circuit breaker
*Values indicated above are nominal. Actual values will vary depending on fuel and installation.