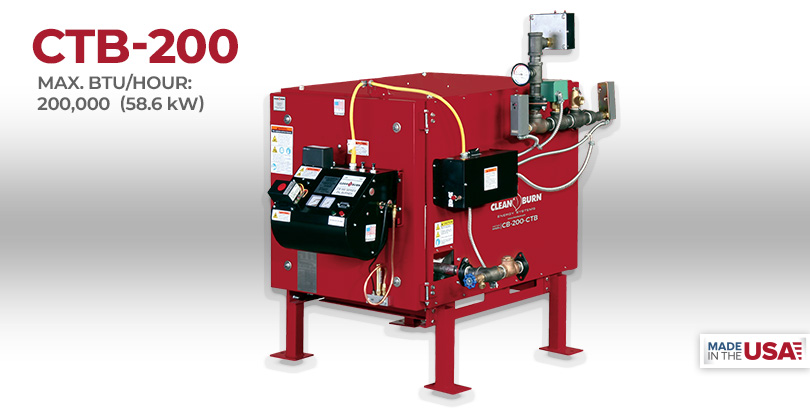 CTB-200
The Clean Burn Model CTB-200 waste oil boiler has an input rating of 200,000 BTU/hr and outputs 148,400 BTU/hr. The CTB-200 is UL listed for use in central heating systems.
With CTB-200, you spend 30 minutes cleaning every 750 hours of operation. It is uniquely designed for installation flexibility. Engineered for use as a single boiler unit, or it can be used in combination with any Clean Burn boiler to create a system perfectly sized for any facility.
MODEL INFORMATION
FEATURES
 Three-pass heat exchanger creates more heat efficiency
Low-mass water design provides quick start -up
Patented burner engineered exclusively for waste oil
System is pre-wired, ready for installation
Narrow cabinet designs provide installation flexibility
Unequaled service and support from Clean Burn Distributors
SPECS
Model CTB-200
Specs.
BTU/hour input:
200,000 / 58.6 kW
BTU/hour output:
148,500 / 43.5 kW
Fuels
Used oils: Crankcase,ATF, hydraulic
Fuel oils: #2, #4, and #5 fuel oil
Heating Surface
39 sq. ft. / 3.6 sqM
Design water flow per coil
15 gpm / 57 lpm
Cabinet dimensions
40″ L x 29″ W x 29.5″ H
101cm x 74cm x 75cm
Overall dimensions
(with burner/breach/plumbing)
59″ L x 33.25″ W x 37″ H
150cm x 84cm x 94cm
Approx. Weight
677 lbs. / 304.7 kg
Electrical Requirements
115 VAC 60 Hz single phase*
*230V/ 50Hz units also available
Maximum oil consumption
1.4 GPH / 5.3 lph
Stack size
8″ / 20cm
Air compressor required
2.0 CFM @ 25 PSI
3.4 m3/h @ 1.7 bar
Recommended clean-out
750 hours
*Values indicated above are nominal. Actual values will vary depending on fuel and installation.